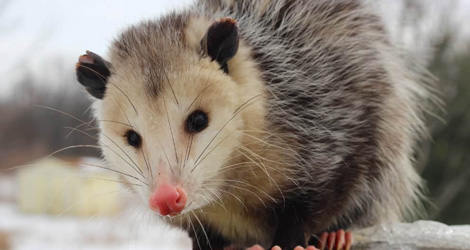 Opossums are commonly found critters in Ontario that usually invade a yard rich in food sources and vegetation. They are known for digging holes in a garden or backyard and destroying vegetation, if any. If you are dealing with an opossum invasion in your home or office, don't hesitate to call us.
Pro Wildlife and Rodent is a family owned and operated animal control company specializing at effective and long lasting opossum control. No matter, how severe the invasion is, we know how to handle the situation without causing any harm to your property. Since opossums are responsible for creating a lot of clutter inside a property, we advise you to seek the assistance of a professional as soon as possible.
Threats Of Having Opossums Around You!
Their teeth are quite sharp.
They can attack humans if irritated.
They can tear pipes, wires and ducts.
Their poop is full of harmful microbes.
Their presence can lead to diseases.
They carry fleas on their body.
They can harm your yard.
They dig shallow holes in the garden.
They ruin the plants and vegetation.
What We Do?
With years of experience in wildlife control, our team is skilled and qualified in getting rid of the stubborn critters with long term effects. You can rely on us for same day opossum removal whenever possible. Our controllers are equipped with the right tools and techniques to provide a prompt response. We believe in humane exclusion rather than wildlife trapping. Our services include:
Opossum Inspection
Opossum Control
Opossum Removal
Opossum Prevention
Opossum Exclusion
Opossum Relocation
Why Choose Us?
At Pro Wildlife and Rodent, we leave no stone unturned to kick away the unwanted opossums from your decks and yard. We are equipped with all safety gears to ensure your as well as our own safety while dealing with notorious opossums.
By choosing us, you'll always receive quality animal removal, after treatment follow-up and unparalleled customer service at competitive pricing. We are proudly serving Hamilton, St Catharines, Niagara Falls, Burlington, Brantford, Welland, Grimsby, Waterdown, Dundas, Binbrook, and Caledonia.
Call To Schedule An Opossum Control Service!