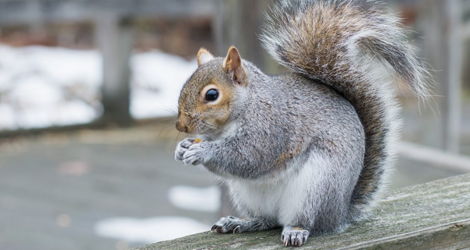 Squirrels are one of the most common critters you often notice moving in your yard. These tiny creatures are quite adorable by looks but are cruel by the destruction they cause. Squirrels have sharp teeth that allow them to gnaw on wires, insulation pipes and other items in the attic. These critters invade attics, roof vents, chimneys and basements for a safe shelter.
If you are dealing with a squirrel problem, don't worry, Pro Wildlife and Rodent is here for you. We are a trusted animal control company serving the homeowners with effective squirrel removal. No matter, how complicated the infestation is, our team is skilled at handling any situation.
Where Do Squirrels Reside?
Squirrels are tiny creatures that are responsible for creating nuisance and clutter. They can be noticed:
Living in an Attic or Basement.
Living in a Chimney or Vents.
Chewing Soffits and Woodwork
Chewing Siding Holes.
Feeding Nuts in the Yard.
Stealing Birdseeds from Feeders.
Chewing Roof Vents.
What We Do?
With a team of qualified animal removal experts by your side, we humanely remove or exclude the squirrel family from your premise. We don't practice trapping, instead leave the wildlife far away in the open from where they can't reach your place again. To ensure long-term squirrel control, we block the potential entry points in your home and also provide follow-up visits for your satisfaction. Our team specialize in:
Grey Squirrel Removal
Red Squirrel Removal
Chipmunk Removal
Same Day Squirrel Control Whenever Possible And We Do Everything We Can To Have A Technician Out The Same Day Or As Soon As We Can
Squirrel Exclusion
Squirrel Prevention
How We Do It?
At Pro Wildlife and Rodent, our team is trained in dealing with various wildlife creatures that invade your home for food and shelter.
For same day or emergency squirrel removal whenever possible in Hamilton, St Catharines, Niagara Falls, Burlington, Brantford, Welland, Grimsby, Waterdown, Dundas, Binbrook, and Caledonia, feel free to call us anytime.
Contact Us To Schedule A Removal Service!