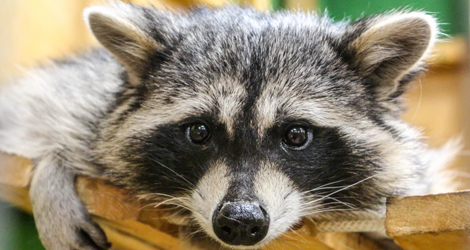 Raccoons are nuisance animals that are found all over Ontario. These adorable creatures are responsible for creating everlasting clutter and severe structural damages in the property they invade. Raccoons look forward to invading homes and offices in search of food, shelter and to give birth to their young ones. These dexterous creatures are extra intelligent, and their aggressive nature makes it hard to get rid of them.
Signs of a Raccoon Invasion
Damaged shingles, soffits and roof vents.
Chewed conduction pipes, electric and insulation wires.
Shallow holes in the lawns and destroyed plantation.
Urine and dropping in the attic or basement.
Screeching sound coming from the attic or chimney.
Bird like noise of baby raccoons coming from the walls.
Cluttered garbage and half-eaten rotten fruits in the yard.
What We Do?
At Pro Wildlife and Rodent, we are a full-service animal control company serving the residents with safe and effective raccoon removal. We follow humane techniques and utilize non-toxic products to shoo away the unwanted creatures from your property. No matter, there are adult raccoons or an entire raccoon family living in the attic, we know how to remove them without causing any harm to your interiors and exteriors.
Since raccoon is aggressive, they can attack you in self-defense. To prevent falling victim to an unwanted attack, feel free to call our raccoon control experts for assistance. We specialize at:
Raccoon Control
Raccoon Removal
Raccoon Exclusion
Raccoon Prevention
What Makes Us The Right Choice?
For same day raccoon control and removal whenever possible, look no further than our animal controllers at Pro Wildlife and Rodent. We know how unsafe you might be feeling with these wildlife creatures moving freely around you. To ensure your safety, our team is available whenever possible to serve you.
To make sure they won't keep coming back, we seal and secure the potential entry points for long-term control over unwanted wild creatures. Trust us for humane raccoon exclusion in Hamilton, St Catharines, Niagara Falls, Burlington, Brantford, Welland, Grimsby, Waterdown, Dundas, Binbrook, and Caledonia.
Call To Schedule Raccoon Removal Service!