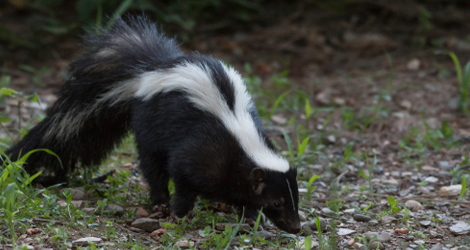 Is your yard or attic exhibiting a strange odor? If yes, the reason might be a stubborn skunk family residing there. Skunks are the same size as squirrels but are slow enough to sometimes catch. These critters are known to sprinkle a weird smell at its enemies that is intolerable.
At Pro Wildlife and Rodent, we are a locally owned animal control company serving the homes and businesses with effective skunk control. Using the advanced techniques and products, we leave no stone unturned to shoo away these nuisance critters from your yard. For long lasting and effective skunk removal, rely on us.
3 to 4-inch holes in the lawn
Faint and pungent skunk odor
Dogs barking late in the night
Skunk paw prints in the yard
Pilfered trash cans or garbage bins
Sod rolled back like a carpet
Before calling a skunk removal expert, firstly, make sure whether they have invaded your place or not. If you notice any of the above given signs, don't hesitate to call a professional for assistance.
What We Offer?
With years of experience in the industry, we are proudly serving the residential and commercial clients with a spectrum of skunk control services. No matter, how severe the invasion is, we know how to deal with these stubborn critters without causing any harm to your property.
We don't believe in trapping these tiny creatures, instead excluding them and forcing them to relocate to a more appropriate area. Our team offers:
Skunk Control
Skunk Removal
Skunk Prevention
Skunk Relocation
Skunk Exclusion
Humane & Reliable Skunk Control
No matter if your home is located in an urban, rural, or sub-urban locality, we provide same day skunk exclusion whenever possible in Hamilton, St Catharines, Niagara Falls, Burlington, Brantford, Welland, Grimsby, Waterdown, Dundas, Binbrook, and Caledonia. We value your safety and satisfaction and never compromise with it. Our service features include:
Locally Owned & Operated
Safe & Eco-Friendly Removal
Humane Techniques
100% Customer Satisfaction
Call To Schedule Skunk Control Service!